Grace Jones – 10 of the best
The more creative input Jones had in her 10 studio albums, the better the songs, mixing genres including disco, reggae, electro, dub and pop. Here are 10 of them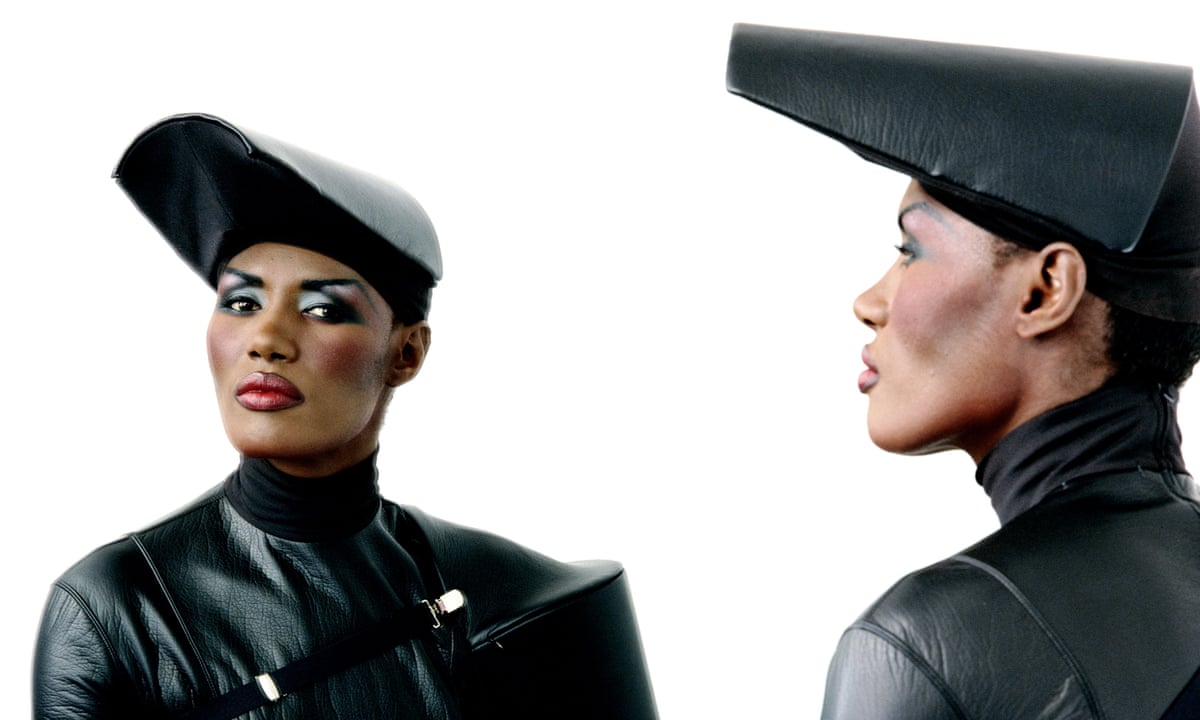 According to Grace Jones, La Vie En Rose was a chanson that belonged to Paris before she gave it to the dancefloors of the world. Edith Piaf was always going to be a difficult act to follow, though their versions are different enough to render comparisons irrelevant (if one had to chose, Joness has a brio and sensuality that perhaps improves on the original). A resident in Paris at the time, Jones had picked up French in three months and was able to deliver the linguistic nuances of the song when she recorded it in New York with Philly disco legend Tom Moulton. The story behind La Vie En Rose is fascinating. Moulton had actually recorded it with another singer Teresa Waiter with the intention of producing a disco hit with no drums, but to his dismay she refused to let him release it. Moulton was all ready to bury the record, when somehow a single copy ended up at Sunshine Sound in New York. Acetates then found their way on to the local disco circuit, and the song became a dancefloor hit. With a keen eye on a certain demographic, Moulton had requested Grace sing showtune standards such as Send in the Clowns and Tomorrow on her first album Portfolio, and was surprised when she suggested La Vie En Rose, which shed heard out clubbing; I hate that song, grumbled Moulton bitterly. The producer said he was shocked and angered to discover the style of the rendition Jones was interested in recording was in fact his very own version. Jones recorded it the next day over the exact same instrumental, and even the style of the vocal lines are often very similar. The singer was perhaps overly critical of her vocal performance in her recent autobiography Ill Never Write My Memoirs: I hear my early records now like La Vie En Rose, and think, Jesus Christ, I am so off-key! I certainly believed that I was [in tune]. Thats what you hear on those early records, complete, delusional self-belief.
As Moulton got to know Jones better, the pair attempted to find songs that matched her character more for her second album, Fame. One curio that didnt quite stand up is Autumn Leaves, a song that attempted to replicate the success of La Vie En Rose by copying the whole production, from the bossa nova clicks to the lightly strummed acoustic. Its certainly polished and agreeable enough, but hung next to La Vie En Rose, its like a cubist Braque guitar hung next to one by Picasso (ie difficult to tell apart). Far more successful was Do or Die, which rather tapped into Joness do-or-die attitude, right down to the lyrics: Tauruses are more determined / Nothings gonna stand in their way. As a performer, Jones had become more confident; she discovered kabuki dance-theatre and subsumed it into her act, giving her incredible poise on stage. When I spoke to Tom Moulton for Thump earlier this year, he said he had an epiphany watching Jones play at the Roxy in the 1970s: She started singing and the microphone didnt work, so she threw it into the audience, complaining that The damned thing doesnt work, and somebody got smashed in the head. And the kid starts screaming, Oh my God! Grace Jones hit me! I gotta keep this mic! Management are running around saying were gonna get sued! but she didnt care. Thats when I realised that aggressive, strong side of her was what people liked.
Despite the quality of Muse, her final album with Moulton, it bombed disco had oversaturated the pop market. Disco got a terrible reputation, Jones wrote in her memoir, like it was anti-music, but its beginnings were in many ways more radicalised, inclusive, and open-minded than rock. It was as much an assault on the corniness and narrow-mindedness of rock as punk. Where it ended up was the fault of the white, straight music business, which drained it of all its blackness and gayness, its rawness and volatility, its original contagious, transgressive abandon. From one unofficial trilogy (Portfolio, Fame and Muse), she inadvertently moved onto another (Warm Leatherette, Nightclubbing, Living My Life). Having moved away from Jamaica as a teenager to live in Syracuse, then moving to New York and then Paris, she found returning to her roots was what she needed to truly discover the music she wanted to make. Working with Sly Dunbar and Robbie Shakespeare and the Compass Point crew, Joness new reggae direction also included a new savvy approach that was inclusive of cool, niche indie music too, best exemplified by the cover of Warm Leatherette by the Normal as the title track of her fourth album. Best on Warm Leatherette is Private Life, a track that fuses atmospheric dub and Joness deep, rich spoken word with a real wailing rock guitar, and yet somehow is never cheesy and always slick and utterly seductive.
By 1981, Jones had got everything right. She worked collaboratively with her partner the graphic designer and photographer Jean-Paul Goude to create beautifully artful images that projected power and androgyny, like on the famous crepuscular cover of Nightclubbing, where she poses with cigarette hanging out of mouth (all of the artwork throughout the rest of her Island years with Goude is mesmeric). If the flattop hair and masculine power dressing looked amazing, then so too was the music; Nightclubbing, her second album with Sly and Robbie and producers Chris Blackwell and Alex Sadkin, is a masterpiece, and the jewel in the crown might just be Walking in the Rain, a cover of an obscure 1978 track by Flash and the Pan. Taking the atmospherics of the original, Joness version features an undercurrent of dub, some unforgettable keyboard counterpoints and Graces cool, almost rapped vocal that gives it a noirish quality. It is similar in mood and quality to the Specials Ghost Town, which came out around about the same time, and there can be few higher compliments than that.
On neither of Serge Gainsbourgs albums with Sly and Robbie (Aux Armes Et Cetera and Mauvaises Nouvelles des Étoiles) did he manage to impress much Frenchness on to them, other than the fact all the lyrics were drawled in his own native tongue. That might have been deliberate, but it was still some feat nonetheless that Jones managed to fuse the spirit of Jamaica with the aura of Pariss shady nightlife so seamlessly on Ive Seen That Face Before (Libertango). In fact, in keeping with the international flavour, theres even some Argentinian tango thrown in for good measure by way of the composer Ástor Piazzolla the Libertango over which she and Barry Reynolds wrote lyrics. Some of those lyrics, written in French (Tu cherches quoi ? / À rencontrer la mort ? (what are you looking for? / a meeting with death?) are fairly tenebrous as pop songs go, and the eerie instrumentation at the outro, the strong sense of deja vu and the possibility the singer is being watched by some kind of lurker didnt do the songs chances any harm in Belgium, where it became a No 1.
Pull up to the Bumper started life as an instrumental B-side to Walking in the Rain, and was held over from Warm Leatherette because the hard Latin disco rhythms and unstoppable funk groove felt so incongruous. It only really became a hit in the UK on its second release, in support of the contract-fulfilling compilation Island Life in 1985, and on closer inspection, eyebrows were raised at some of the lyrical content, which could be interpreted as a large metaphor for anal sex. If you want to take it that way, please do. Take it any way you want, Jones said. If you wanted, you could imagine that I am not singing about a car at all. But thats up to you. If you think the song is not about parking a car, shame on you.
Joness sense of humour came to the fore again on her third album with the dream team, Living My Life, especially on the hit single My Jamaican Guy. Strong and sexy the track might be, but the lyrics are hilarious. Take a toke from the smoke / Never standing by the door, sings Grace about her Jamaican guy, Just stretching out pon de floor / That way him dont fall over. A lot of people were shocked when Jones spoke extensively about her drug-taking in her memoir, though the clues were already there in the music. Less surprising was that the riff and rhythm to the track were ripped off hook, line and sinker by LL Cool J on his 1996 single Doin It.
1985 was a year when two of the most expensive records ever made came into being, Joness seventh album Slave to the Rhythm and Arcadias So Red The Rose, and by a quirk of fate Jones was on both of them. Better known as Slave to the Rhythm (the radio version that everyone recognises), Ladies and Gentleman was one of a number of tracks produced by Trevor Horn for one of the most peculiar releases in musical history. Slave to the Rhythm was pitched as a musical biography, featuring various interviews and a number of versions of that song remixed, some recognisable, others obscured. As a parting gift to her former employers, the record was released collaboratively between Island and Capitol as the only LP ever put out on the label Manhattan Island. Horn was given carte blanche in the production suite, building a whole LP around Graces isolated vocal tracks, giving her the freedom to experiment extensively with her larynx. Arriving months late and with a bill running into millions, the song itself was a hit, even if it was too modest a hit to recoup the enormous outlay. Its an odd, occasionally overreaching collection, but the track in question is a wonderfully ostentatious classic that has become Graces signature tune and calling card, even if most people dont technically get the name right.
After she signed to Capitol, Joness next few albums failed to maintain the artistic integrity of what came before. On Island she had freedom and more input in her work, whereas now she was an artist with a major record deal at a label that perhaps didnt know what to do with her. If the quality of the album sleeve in any way correlates with the quality of the music inside, then the cover of Inside Story says all you need to know. The choice of Nile Rodgers as producer was not an unmitigated disaster, but the record sounds more like a collection of studio tricks with Jones tacked on with samples than it does an album with any substance. Even the lead single Im Not Perfect (But Im Perfect for You) appears to lack direction. A track without any gimmicks is Victor Should Have Been a Jazz Musician, and while theres a certain production sheen that dates it, the song is strong. Its a smooth and slinky gem that may have got lost along the way. The chorus is oddly reminiscent of Bowies This Is Not America, while in the first verse she mentions the fact she went to a concert by Nina Simone. So whats not to love?
Grace became almost completely disenfranchised by the music business after her lacklustre Bulletproof Heart album in 1989, releasing the odd single for film soundtracks, but showing little interest in making another album. In 1997 she was reported to be working with Tricky, but that didnt last long, although Hurricane which they worked on together did become the title track when she finally did release an album in 2008 (it had been called Cradle to the Grave when shed worked with the Bristolian producer). If the music press had worked itself into a lather about the decade it took Axl Rose to finally release Chinese Democracy, then there was no such fanfare for Jones, despite an absence of almost two decades. What the critics were unanimous about though was the quality of Hurricane. It seemed inconceivable that Grace Jones could return with a record so contemporary and relevant and above all so damned enjoyable, and yet shed pulled off the near impossible. Perhaps best of all is Williams Blood, an autobiographical track that taps back into some of her more difficult experiences in Jamaica as a child. The verses are musically foreboding, while the choruses, with their ebullient gospel choirs splaying shards of iridescent light onto proceedings, make for an emotional juxtaposition that sways back and forth several times. And just when you dont think you can take any more, theres a further coda (Ive got the Williams blood in me!) that may take your head clean off.