12 Russians indicted in Mueller investigation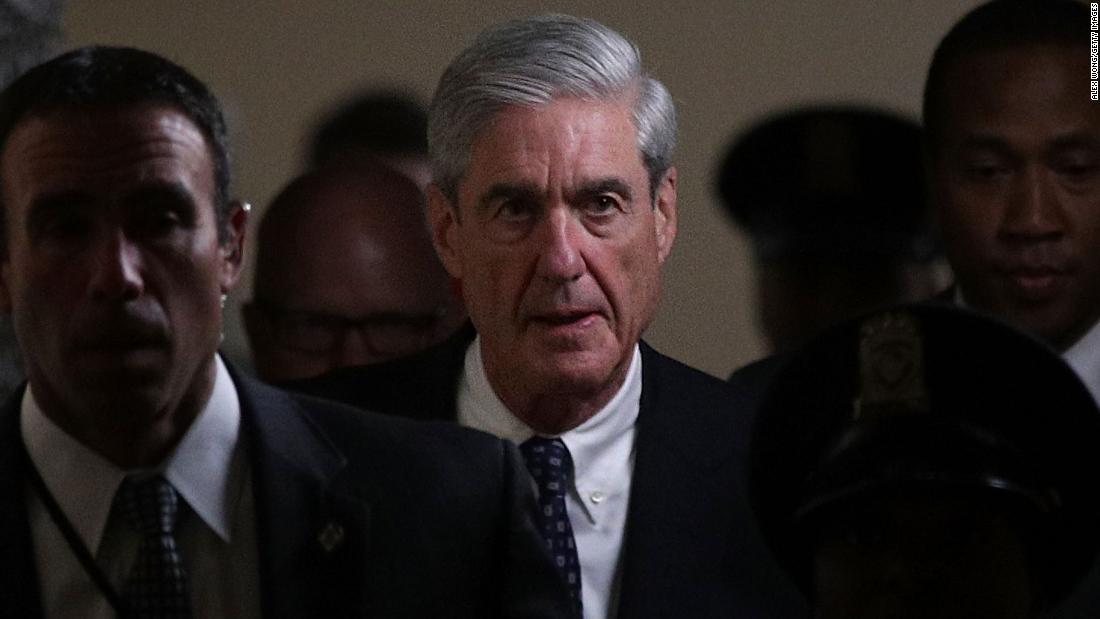 Washington (CNN)The Justice Department announced indictments against 12 Russian nationals as part of special counsel Robert Mueller's investigation of Russian interference in the 2016 election, accusing them of engaging in a "sustained effort" to hack Democrats' emails and computer networks.
All 12 defendants are members of the GRU, a Russian federation intelligence agency within the main intelligence directorate of the Russian military, who were acting in "their official capacities."
The revelations provide more detail on the sophisticated assault on the US election in 2016, including the release of emails designed to damage Democratic presidential candidate Hillary Clinton.
Trump is due to meet Russian President Vladimir Putin — who has denied election meddling — in Helsinki on Monday for a summit that includes a one-on-one meeting with only interpreters present. White House press secretary Sarah Sanders said Friday the summit will not be canceled.
The Justice Department says the hacking targeted Clinton's campaign, Democratic National Committee and the Democratic Congressional Campaign Committee, with the intention to "release that information on the internet under the names DCLeaks and Guccifer 2.0 and through another entity."
Deputy Attorney General Rod Rosenstein said the indictment does not name any American citizen, but told reporters that defendants "corresponded with several Americans during the course of the conspiracy through the internet."
"There is no allegation in this indictment that any American citizen committed a crime," Rosenstein said at a news conference. "There is no allegation that the conspiracy altered the vote count or changed any election result."
Deputy White House press secretary Lindsay Walters referenced Rosenstein's comments and said there is no evidence tying the Trump campaign to hacking attempts.
"Today's charges include no allegations of knowing involvement by anyone on the campaign and no allegations that the alleged hacking affected the election result," Walters said in a statement. "This is consistent with what we have been saying all along."
Trump private attorney Rudy Giuliani
in a tweet
said the indictments are "good news for all Americans" but called on the special counsel investigation to end.
"The Russians are nailed. No Americans are involved. Time for Mueller to end this pursuit of the President and say President Trump is completely innocent," he tweeted.
Trump, meanwhile, did not criticize Putin or condemn Russia's actions in a pair of tweets on Saturday, instead attacking his predecessor, former President Barack Obama, with what has become a
familiar claim
of his.
"The stories you heard about the 12 Russians yesterday took place during the Obama Administration, not the Trump Administration,"
Trump wrote.
"Why didn't they do something about it, especially when it was reported that President Obama was informed by the FBI in September, before the Election?"
"These Russian individuals did their work during the Obama years,"
Trump continued in a tweet later Saturday
. "Why didn't Obama do something about it? Because he thought Crooked Hillary Clinton would win, that's why. Had nothing to do with the Trump Administration, but Fake News doesn't want to report the truth, as usual!"
Obama, however, personally warned Putin against messing with the election, imposed sanctions on Russian individuals and entities, kicked out 35 Russian diplomats and closed two of the Kremlin's compounds in the United States.
Announced as Trump meets Queen Elizabeth II
Rosenstein said he briefed Trump about the allegations in the indictment earlier this week and that "the President is fully aware of the department's actions today."
Asked about the timing of the announcement, Rosenstein said it came as "a function of the collection of the facts, the evidence, the law, and a determination that it was sufficient to present the indictment at this time."
The unfolding drama on both sides of the Atlantic reflected how Trump's presidency has been overshadowed by the Mueller probe from its earliest moments and how the investigation frequently tramples the President's attempts to carve out favorable headlines.
Some lawmakers are calling on Trump to cancel the meeting with Putin.
"President Trump must be willing to confront Putin from a position of strength and demonstrate that there will be a serious price to pay for his ongoing aggression towards the United States and democracies around the world," said GOP Sen. John McCain in a statement. "If President Trump is not prepared to hold Putin accountable, the summit in Helsinki should not move forward."
In a statement, Russia's foreign ministry said there was no basis for the charges and said purpose of the announcement is to "spoil the atmosphere" before Monday's summit.
"It is regrettable that the duplication of false information in Washington has become the norm, and criminal cases are worked up for obvious political reasons. The question remains: how long will they continue to break this shameful comedy that disgraces the US," the Russian statement said.
Russian military stole information of 500,000 voters
Eleven of the Russians are charged with identity theft, conspiracy to launder money and conspiracy to commit computer crimes. Two defendants are charged with a conspiracy to commit computer crimes.
"Russian GRU officers hacked the website of a state election board and stole information about 500,000 voters," Rosenstein said. "They also hacked into computers of a company that supplied software used to verify voter registration information."
The defendants worked for two units of the GRU that "engaged in active cyber operations to interfere in the 2016 presidential elections," Rosenstein said. One unit stole information using spearfishing schemes and hacked into computer networks where they "installed malicious software that allowed them to spy on users and capture keystrokes, take screenshots and exfiltrate or remove data from those computers."
Intelligence gathered by US officials captured some of the Russians accused in Friday's indictments congratulating each other and celebrating the success of their operation during the campaign, according to a person familiar with the investigation. They were also captured celebrating Trump's victory. The source said the intelligence was gathered both before and after the 2016 election.
Each of the Russians involved held military titles. One leader was Sergey Aleksandrovich Morgachev, a lieutenant colonel who used the hacking tool "X-Agent." The other Russians involved also used various pseudonyms to send phishing emails to Democratic Party affiliates.
The two-part operation started with a "spearphishing" effort in early 2016, the indictment describes. The Russians hit more than 300 people connected to the Clinton campaign and Democratic political groups.
One of those targets was Clinton campaign chairman John Podesta, whom Aleksey Viktorovich Lukashev and others spammed with a link that appeared to come from Google as a security notification but led Podesta to a GRU-created website. Another phishing effort involved the Russians using an email address with one letter deviated from the name of a Clinton campaign member's.
The computer crimes the Russians face also accuse them of installing malware on Democratic campaign computers. That allowed them to steal passwords, record staffers' keystrokes, take screenshots and observe computer work done on fundraising and voter outreach projects, according to the indictments. They also watched a Democratic campaign committee employee access the organization's bank account information.
Though the Democratic organizations realized they were hacked by May 2016 and attempted to flush out the hackers, the Russians continued to watch the computers through their hacks until a month before the election, according to the indictment.
The then worked to distribute the documents starting in June 2016. The Russian intelligence agents had registered the website DCLeaks.com and started a Facebook page and Twitter feed claiming they were "American hacktivists." Once the DNC announced publicly it had been hacked, the Russians used the online moniker Guccifer 2.0, claiming they were a lone Romanian. They did this "to undermine the allegations of Russian responsibility for the intrusion," the indictment said. They also took steps to cover their tracks, deleting files and logs on computers.
In June 2016, Guccifer 2.0 began posting stolen documents through a WordPress site they ran. To spread the material further, they shared stolen documents with people including a US congressional candidate, a state lobbyist, journalists, an entity known as Organization 1, which appears to be Wikileaks, and a person in touch with the Trump campaign.
It has been more than a year since the special counsel's Russia investigation began. The probe had already resulted in criminal charges against 14 Russians, five Americans and one Dutch citizen and three corporate entities. One of those people has already been sentenced and served a month in prison, while three others pleaded guilty and await sentencing.
A number of Trump associates have so far been swept up in the special counsel investigation.
Paul Manafort, Trump's campaign chairman in 2016, is currently in jail after his bail was revoked for alleged witness tampering and faces two sets of criminal charges related to his years of working as a lobbyist for pro-Russian Ukrainian politicians. He has maintained his innocence and is set to go to trial on bank fraud and other financial allegations on July 25.
Former Trump campaign official and Manafort deputy Rick Gates, former Trump campaign aide George Papadopoulos and former Trump White House national security adviser Michael Flynn have all entered guilty pleas in connection with the investigation. Gates, Papadopoulos and Flynn have all pleaded guilty to making false statements to investigators. All agreed to cooperate with the special counsel's office, but Papadopoulos' cooperation is likely to come to an end in September when he is sentenced. The four Trump associates that have been charged are not accused of helping Russia meddle in the election.
This story has been updated to correct the spelling of Lindsay Walters' name.