Pro-Brexit group Vote Leave fined for breaking UK electoral law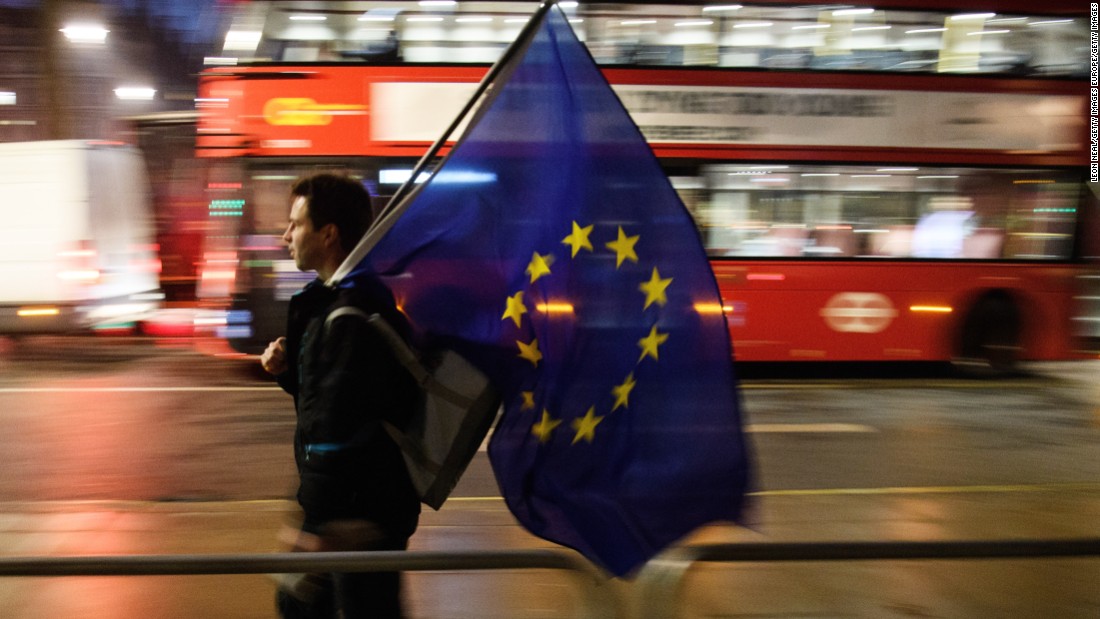 (CNN)The official pro-Brexit campaign group has been fined and referred to the police after the UK's elections watchdog found it had broken Britain's strict electoral laws.
In a damning ruling, the commission said it had imposed a punitive fine on Vote Leave, and accused it of frustrating the watchdog's investigation.
"We found substantial evidence that the two groups (Vote Leave and BeLeave) worked to a common plan, did not declare their joint working and did not adhere to the legal spending limits," said Bob Posner, Electoral Commission director of political finance and regulation and legal counsel, in a statement.
"It (Vote Leave) has refused to cooperate, refused our requests to put forward a representative for interview and forced us to use our legal powers to compel it to provide evidence," said Posner. "Nevertheless, the evidence we have found is clear and substantial, and can now be seen in our report."
The
long-awaited report
found Vote Leave exceeded its legal spending limit of £7 million ($9.3 million) by around £500,000 ($660,000).
It ruled Vote Leave had broken rules by coordinating with BeLeave. Darren Grimes, the founder of BeLeave, was fined £20,000 ($26,000). Grimes and Vote Leave official David Halsall have been referred to the police.
Vote Leave rejected the commission's findings, saying in a statement that the report contained "a number of false accusations" and that the campaign group had in fact provided evidence "proving there was no wrongdoing."
Campaign group overspent by half a million pounds
In an accompanying blog post
, the commission explained that in the 10-week period leading up to the referendum on June 23, 2016, "the two designated lead campaigners (one for the Leave camp and one for Remain) could spend up to £7 million each, while other groups had a limit of £700,000 each."
"Campaign groups can work together to achieve a particular outcome, but their spending — when combined — must not exceed their individual spending limit," it added. "Where a lead campaigner is working together with other campaign groups, all the spending will count towards the lead campaigner's total and needs to fall within the £7 million limit."
Grimes and BeLeave made payments of around £675,000 ($894,000) to a Canadian data analytics firm Aggregate IQ, which "should have been treated as incurred by Vote Leave," the commission said.
Grimes said in a statement Tuesday that he would be fighting the Electoral Commission's findings, adding that the "EC have caved to political pressure from those who despise Brexit."
A second referendum on the cards?
Following the report, some MPs and campaign groups argued that the referendum results were now invalid, prompting calls for a second vote.
Kyle Taylor, of
Fair Vote UK,
which campaigns for transparency in elections, said in a statement Tuesday: "The government needs to take urgent action to deal with the fact the referendum is now illegitimate."
Labour MP Barry Sheerman went a step further, saying on Twitter that "we must now rerun a new untainted Referendum!"
His fellow Labour MP, Darren Jones, is now writing to colleagues in an effort to garner support for a public inquiry into the referendum.
"If illegality can take place in our democracy, we must bring forward reforms," he said in a statement on Twitter.